Friday 05 August 2011 at 02:12 am.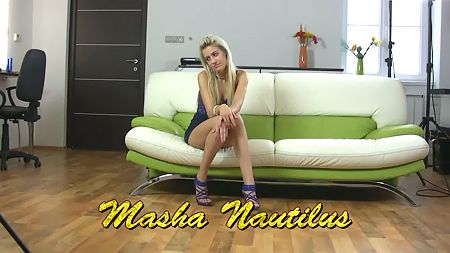 Masha had a big family and the only man in her family was her father. It was hard to share the house with 7 other girls as she had only sisters. Because of it she felt a lack of male attention and she always dreamed to meet a prince who will take her to his place and save from the female chaos in her house. Many of her sisters have lost their virginity and they were making fun of Masha as she was still innocent in her 18 and didn't even have a boyfriend.
Once she kissed with her classmate and couldn't forget this feeling. When his tongue slid inside her wet mouth and started playing with her tongue. At that moment her pussy got wet for the first time and since that moment she could think only about sex. She played with her pussy and watched porn movies at night when her sisters were sleeping. Her friends started thinking that she was a pervert as she kept talking about sex all the time. The only thing which could calm her down was sex and the huge cock was needed for this. So Masha started looking for the guy who would stick his pole in her virgin honey pot and deflower her. Soon she met a hot guy and they often pet each other at his place. The guy was passionate and could make her cum even without penetration, but Masha wanted to fuck, petting wasn't enough anymore.
Free sample video:
Used tags:
defloration_tv
,
himen
,
innocent
,
virgin
3.3 rating from 444 votes
five comments