Wednesday 07 March 2007 at 4:53 pm.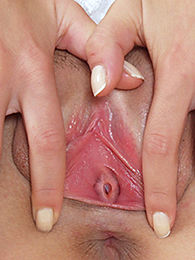 I lost my virginity when I was 16 years old... I was with the guy for maybe 1 1/2 years, and everything was going great. I was very sexually attracted to him, and I think he felt the same about me.
We were lying in bed one night, kissing and fooling around a bit like we did all the time. That night was different though, we got more intimate. He asked me if I would have sex with him, and I decided that I wanted to. He had given me oral sex before, and that's how we started, him eating me out. I had the wildest orgasm (I hadn't had many) and at that point I wasn't gonna hold back for sex anymore. He got between my thighs and pushed his penis (don't know why I'm using "penis") against my lips. As he started to enter me I felt a little bit a pain, mixed with a little bit of pleasure; then enough in and my cherry popped, I let out a loud shreek I guess you'd say, of pain. He was scared at first cause he didn't know I would bleed, and neither did I. I told him not to worry about it, cause I thought that was suppose to happen (I lied) so he kept going. The first few thrusts really hurt, but he was gentle. He came pretty quick cause it was his first time too. I'm now 20 years old, we're married and have a 1 year old daughter. Thanks for taking my story, and thanks to who ever reads it for reading it, bye.
Used tags:
defloration
,
defloration_tv
3.6 rating from 174 votes
seven comments